Industry-specific environmental systems
Banana Best Management Practices – Environmental Guidelines
The Banana BMP are a valuable resource for all banana farming businesses, whether they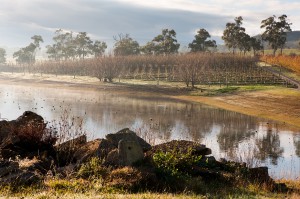 already have Environmental Management Systems (EMS) or are assessing their environmental performance for the first time. The Guidelines reflects the structure of the Freshcare Environmental Code, which is administered by Freshcare, of which Australian Banana Growers Council are a stakeholder. Businesses audited under other systems will also find it highly valuable.
EnviroVeg
The basic EnviroVeg annual self-assessment program is offered free to all National Vegetable Levy paying growers throughout Australia. EnviroVeg Platinum was launched in April 2013 and is an independently assessed version of the EnviroVeg Program that offers growers access to rewards, including use of the EnviroVeg logo if growers choose to submit their operations to environmental audit.
E-Par
Internationally recognized Environmental Management System (EMS) for the sportsturf and recreation industry. Compliant with ISO 14001:2004, the e-par EMS provides the templates, examples and completed environmental documents and procedures ready to download and use.
Growcom Farm Management System
The FMS integrates environmental management with food safety, quality assurance (QA), property planning, quarantine and interstate certification, workplace health and safety (WH&S), and financial and business management.
Nursery Industry Accreditation Scheme Australia (NIASA) Best Management Practice Guidelines & EcoHort
The NIASA Guidelines include water, nutrient and pest management, crop hygiene and general site management and are reviewed annually to ensure they remain relevant. There is also an Environmental Management System (EcoHort) for production nurseries, growing media manufacturers and greenlife markets that is independently audited annually. EcoHort builds on NIASA, providing tools and resources for businesses to assess their environmental responsibilities in areas including energy, waste and water management.
Pineapple Best Practice Manual (not available online, so contact Simon Newett on – simon.newett@daff.qld.gov.au )
The Pineapple Best Practice Manual provides a practical reference for Queensland pineapple growers to the current 'best practices'. The manual covers all elements of how to grow pineapples with minimal environmental risk. There are 35 chapters that cover all elements of production, from site selection to product specifications.
Other land sector environmental systems/programs
Australian Certified Organic Standard (ACOS)
The ACOS 2013 outlines the requirements for marketing produce as certified organic in Australia. Its scope includes organic production, manufacturing, processing and retailing. While the standard describes parameters for compliance, it does not override legislative requirements but differentiates organic agricultural practices from conventional farming practices.
Certified Land Management (CLM)
The CLM system helps land managers, industry organisations and natural resource management agencies improve environmental and animal welfare management and provides an independent verification of performance. Supported by foundation partner, Elders, CLM operates across industries on a whole-of-farm and landscape-linked basis. Implemented by Australian Land Management Group and based on myEMS software system.
Clean Energy Regulator (CER)
Clean Energy Regulator (CER) administers the National Greenhouse and Energy Reporting (NGER) scheme, the Carbon Farming Initiative (CFI) and the Renewable Energy Target (RET). The CER has developed a decision tool for choosing the most appropriate sequestration methodology for your land.
Cotton Best Management Practice (BMP)
BMP is the Australian cotton industry's guide for growing cotton in harmony with the natural environment. It is a grower driven, voluntary farm-management system that provides self-assessment mechanisms, practical tools and auditing processes to ensure that cotton is produced with best practice across a range of focus areas.
Dairying for tomorrow
The dairy environmental self-assessment tool, DairySAT, is the entry level environmental management system for the dairy sector. Dairy farmers also have access to two other tools – the Dairy Greenhouse Abatement Strategies calculator and the Farm Nutrient Loss Index.
ECO Warranty
ECO Warranty is a management system standard that details a number of areas of a company's operations where management could minimise or prevent real or potential impacts upon the environment. It is suitable for all types of organisations.
Freshcare Environmental – Viticulture (2nd Edition, June 2011) and Winery (2nd Edition, 2013)
The Freshcare Environmental Viticulture and Environmental Winery Codes of Practice are industry-owned codes that provide businesses with a tailor-made environmental management system specific to the processes involved with wine grape production and wine making. Links to 'Entwine Australia' the voluntary national environmental assurance program available to all Australian wine companies and grape growers.
Natural Resource Management Regions There are 56 catchment regions identified across Australia. They work with local Landcare groups and other 'care' and industry groups, Local, State/Territory and Commonwealth governments, Indigenous people, NGOs and others to support rural and regional landholders, urban people and communities to live and work in ways that lead to a healthy and productive environment.
Third-party auditing options
Environmental assurance provides a generic checklist of recognised environmental best practices. It does not allow for certification in its own right, as it is completed through self-assessment rather than third-party audited. A list of third-party certified systems has been provided below.
Freshcare Code of Practice Environmental
The Freshcare Code of Practice Environmental (2ND Edition 2011) is an industry owned standard, describing the practices required on farm to provide assurance that produce has been grown and packed with care for the environment. Freshcare endorsed certification bodies include:
Australian Certified Organic 
Aus-Qual 
NCS International Pty Ltd 
SCI-Qual International
SGS Systems & Services Certification 
Silliker Global Certification Services Pty Ltd
Globalgap
The GLOBAL G.A.P. Fruit & Vegetables Standard covers all stages of production, from pre-harvest activities such as soil management and plant protection product application to post-harvest produce handling, packing and storing. Certified in Australia through approved bodies:
Aus-Qual
NCS International Pty Ltd
SAI Global Certification Services Pty Ltd
SCI-Qual International 
SGS Systems & Services Certification Linking Environment And Farming (LEAF)
LEAF Marque is a globally recognized, independently certified assurance scheme. It is based on Integrated Farm Management principles of sustainable farming. LEAF is a UK based organization working with farmers and organisations from around the world to promote sustainable food and farming. Certified in Australia through approved bodies (as of 30 September 2013 – SAI Global and Asure Quality Ltd).
Asure Quality Ltd
SAI Global Certification Services Pty Ltd